Everything ready for the most important fruit and vegetable event in Europe,

Fruit Logistica 2012
Fruit Logistica will shortly begin, the European trade fair par excellence dedicated to the fruit and vegetable and fresh food sector.  Over the course of three days, professionals from the fruit and vegetable sector from around the world will come together.  Just to give us an idea, last year it brought together over 65.000 visitors from 130 countries who had the opportunity to enjoy a total of 2.400 exhibitors.  In 2012, a year which sees the celebration of its twentieth edition, it is expected that these figures will be exceeded.
As well as Fruit Logistica itself, the Freshconex competition must also be mentioned, where the common features are IV and V range products, as well as an endless number of events and conferences which will take place throughout the three days of the trade fair .
[nggallery id=1]
---
The Fruit Logistica events you just cant miss
7th of February
10.30h – "Photo call: presentation of collaborator country (Turkey) with fresh fruit and vegetables", in front of the ICC Berlin main entrance (Street: Neue Kantstrasse).
11.00h – the press conference will take place to open Fruit Logistica 2012 in ICC Berlin, Hall 4/5
15.30h – 19.00h – "31º Fresh Produce Forum" where experts from all sectors will discuss issues such as the quality of fresh products as well as the impact this has on the small business.
8th of February
10.00h – "Breakfast- Interpoma 2012 presentation" in Hall 4.2/ stand B-10.
10.30h – "Press conference: premiere in Fruit Logistica 2012" in Halle 6.2 – B 05
11.00h-12.00h – "Conference on the optimization of the logistics of retail sales in urban areas".  The projects to be presented will be for the purposes of reduction of costs, noise, CO2 emissions, as well as the optimization of deliveries in Hall Forum hall 26.
13.00h-14.00h – "ECPA press conference: sustainability and productivity must go hand-in-hand: EU policies and their impact on the fruit and vegetable business" in Hall 6.3, Room B.
14.00h-15.30h – "Round table on the impact of the BSCI on primary food producers" in Messegelände, room Mannheim, hall 3.1, level 1.
14.30h – 16.00h – "Sustainability and productivity – one cannot exist without the other… as a new cultivation law is changing the fresh food business" in Exhibitor Forum: Gr. Stern – Room Sydney (between halls 10.2/11.2).
15.00h -16.00h – "How to deal with the crisis" in Hall Forum hall 26. In this conference we highlight the presence of Raquel Izquierdo Santiago and Clara Aguilera García.
9th of February
10.00h-12.00h – "Sustainable supply of fruit and vegetables" in Exhibitor Forum: Gr. Stern – Room Madrid (between halls 10.2/11.2)
10.00h – "Breakfast – Canarias presentation" where the president of the association of banana producers of the Canary Islands (ASPROCAN), Francisco Rodríguez Díaz, will present the promotional plan of Ultraperipheral Regions.
11.00h-12.00h – "The global citrus market". Here Francisco José Martínez will speak as representative of the Citrus Management Committee in Hall Forum 26.
11.00h-12.30h – "From sustainable farming to a sustainable business: the role of companies and cooperation", in Exhibitor Forum: Gr. Stern –Room Sydney (between halls 10.2/11.2).
15.00h-16.00h –" The new banana business" in Hall Forum hall 26
16.00h-18.00h – "The first working group for the marketing, promotion and information of the mango" in Exhibitor Forum: Gr. Stern –Room Hong Kong (between halls 10.2/11.2).
10th of February
13.00h-14.00h – "Innovation in the fresh produce business" in Hall Forum hall 26.
14.30h-15.00h – "Presentation of the Fruit Logistica 2012 innovation awards" in Exhibition Grounds, Hall 20/21.
15.00h-16.00h – "Press conference: The participation of Morocco in Fruit Logistica" on stage between Halls 20/21.
---
After the fair … 

a little relaxation
Berlin is one of the most interesting capitals in the world; it hosts hundreds of museums and monuments just waiting to be visited. If after the trade fair you still have some time, we recommend you visit Museum Island where you will find the most interesting museums in the city, the cupola of the German Parliament (der Reichstag) where admission is free but requires prior registration, and the Brandenburg Gate.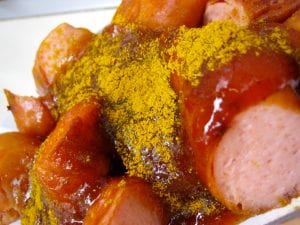 If what you want is to take away a more gastronomic souvenir, we recommend you try some of the Berlin specialities such as Currywurst, sausage with ketchup and curry which is served with chips and bread (Curry 36, Mehringdamm 36 10961 Berlin) or roast pork knuckle Berlin style (Eisbein) with which you will quickly warm up.