The first thing that comes to mind when we speak of Pink Lady is, undoubtedly, the connotations it has of seduction, love and femininity.  The effective communication of these values, evident in the design of its website, form part of a meticulous marketing strategy down to the last detail, which has led to Pink Lady being an apple in continuous growth.
Online Marketing
The Australian brand echoes the importance of online marketing strategies as a tool with which to win over new consumers and create the loyalty of existing ones.
On the occasion of Valentine's Day, Pink Lady launches a new campaign on Facebook's wall inviting you to participate in the prize draw of a Fiat 500.  A brilliant example of the effective use of social networks.  In this case, the brand opted to include a link that sends you to a landing page, where the consumer must include the code found on the product label.  This type of page represents a very common resource amongst companies, who create it for the duration of a promotion.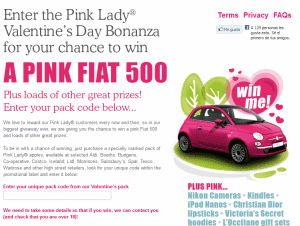 New target segment
Pink Lady launches a new brand, together with Disney, with which it seeks to capture the children's market as a new target segment.  The fun container will not leave the little ones unmoved.  However, this commitment to a potential consumer does not translate into the neglect of the existing ones, as through the Pink Lady Club the brand incentivizes the loyalty of its regular clients.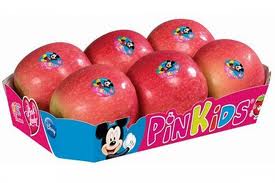 Foreign markets
The growth of Pink Lady is made evident with its export volume, as during recent years some of the countries in which it operates, such as Israel, Russia, Middle East, Hong Kong, Singapore, Thailand or Malaysia all reported profits corresponding to 5% of their sales.  But, if there is any market which stands out for its interest in the quality of Pink Lady products, it is the Asian market.
Fruit Logistica 2012
A Pink Lady stand could not be absent these days in Berlin; of course not, appealing to these values that are already implicit in the essence of the product.