Alice.com is managing to make a niche for itself in the mass market sector in our country.  For those who still don't know about it, the Alice.es website has been available in Spain for the last three months and expects to compete with the big chains of supermarkets and food centres such as Mercadona, Hipercor and Carrefour.
But, what is Alice.com?
Alice arose as a result of our lack of, and preoccupation with, time and seeks to change the lifestyle and the consumer behaviour of its clients.  You no longer need to spend time on shopping, you can order it all on Alice.com and they will deliver it to your home.  Alice works with products that form part of our everyday basic needs.  We can confirm that it is not just an online supermarket as this company works directly with the brands, thereby eliminating intermediaries and making it possible to provide special offers.

Alice.com makes it easy for you to increase your sales
Alice.com places at your disposal its e-commerce platform (https://www.alice.es/partners) on which to sell the products of the food producers themselves, ensuring they go direct to the consumers with the ultimate objective of increasing sales and enabling them to become better acquainted with their own consumers.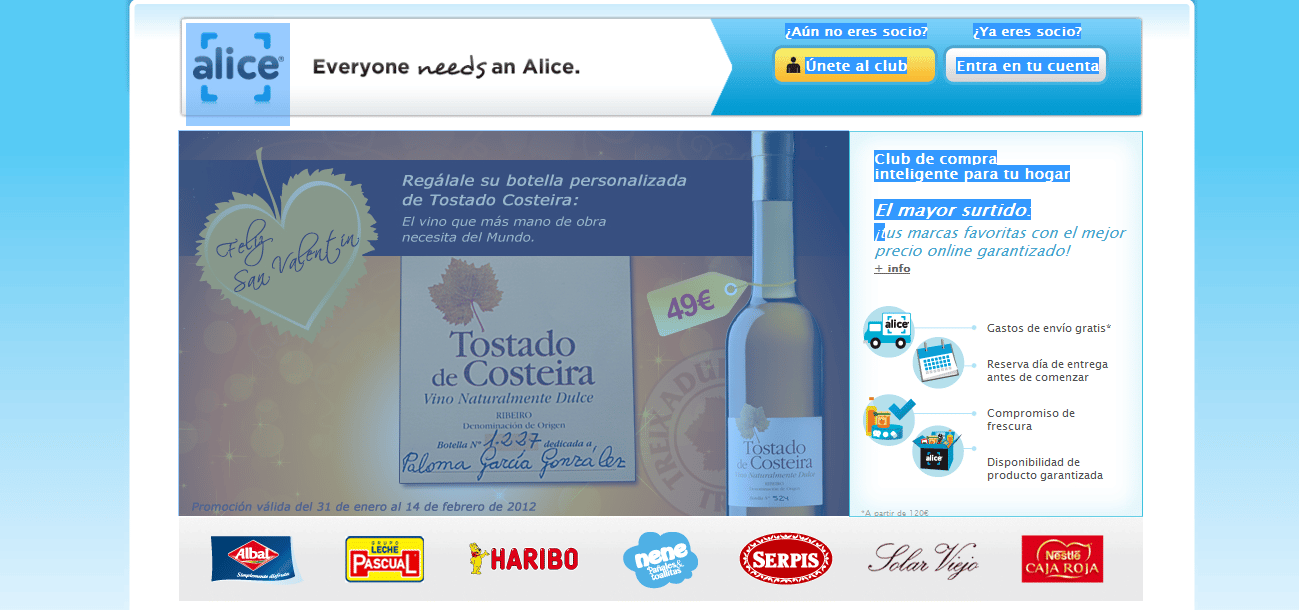 Now its biggest investors are Spanish
Alice.com recently announced it has received the amount of 2,7 million euros (6,3 million dollars) from Spanish investors.  This financing changes the perception of the country with the most shareholders: if previously American investors were the majority shareholders, amongst whom is the founder Brian Wiegan, now it is Spanish shareholders that own over 50% of all shares.
The capital received will, according to Alice.com, be spent on improving the website and continuing to provide a quality service which facilitates the activities of its users.
In Spain, Alice.es began back in the month of July of 2011 with a merger with the Spanish company Home 24×7, the founder of which is Nacho Somalo and who is currently the President of Alice.com in Europe.  October saw the launch of the subsidiary Alice.es on to the Spanish market and since then it has already achieved over 60.000 registered users, hosts over 200 brands and some 5.000 leading product references.
Alice.com sets an example with its marketing strategies on social networks
Rebecca Thorman, employee working in the marketing Department of Alice.com, recounts how six months prior to launching the company, awareness was already being created on the Internet by making use of social media through blogs, a YouTube Channel and social networks Facebook and Twitter, thanks to a key list of influences.
In addition, through these blogs and social networks, the Alice.com team provided incentives such as discounts and vouchers to select bloggers, and by so doing these bloggers could in turn extend these incentives to readers of their personal blogs.